[ Wednesday, July 06, 2005 ]
"The friend of the Bush family who secretly recorded nine hours of conversations with George W. Bush says he never intended for the tapes to become public but felt he had a duty to accurately represent a man who he believed would one day become president."
What Bush Said in Private : Mr. Bush appears to have acknowledged trying marijuana.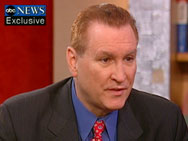 Doug Wead, an author and former aide to President Bush's father.
The New York Times
ABC VIDEO
In Secretly Taped Conversations, Glimpses of the Future PresidentAs George W. Bush was first moving onto the national political stage, he often turned for advice to an old friend who secretly taped some of their private conversations, creating a rare record of the future president as a politician and a personality.In the last several weeks, that friend, Doug Wead, an author and former aide to Mr. Bush's father, disclosed the tapes' existence to a reporter and played about a dozen of them.
The conversations Mr. Wead played offer insights into Mr. Bush's thinking
art [4:19 AM]
|